STEVE STEVENS ORCHESTRA PROJECT
Currently adding more CLARENCE ZAHINA history from my collection.
Listen - All I Have To Do Is Dream - THE ZAHINA SISTERS & the Barnstormers at the Savanna Museum and Cultural Center on Saturday, April 26, 2014 from 2 to 5 p.m.

Appearing at the Savanna Museum and Cultural Center, 406 Main (Route 84)
Free Dance: Saturday, April 26 from 2:00 pm – 5:00 p.m. After 50 years, The Zahina Sisters will be performing and singing with the Barnstormers once again. Larry Busch of Lancaster, WI will lead the band in place of the girls' deceased father, Clarence. The festivities will take place at the Savanna Museum and Cultural Center, 406 Main Street, Savanna, IL. The new Barnstormers will be Mark Busch of Mineral Point, WI, Michael S. Dunavant of New York City, Andy Nielsen, Jeff Kromer and Cindy Trent of Mount Carroll, IL.

From 1945 to 1948, Clarence Zahina and His Barnstormers were featured on a weekly radio show on Sunday afternoons over KDTH in Dubuque, at which time Clarence began featuring his three small daughters, Mary Jane, Darlene, and Jannan on holidays and other special occasions. They sang their first professional show at ages 5, 7 and 8. Through the years, the girls studied piano, violin, voice, and played other musical instruments as well

During the 1950's, the girls joined their dad's band. The band was featured weekly on WISC-TV out of Madison, WI, and it was a huge success. It wasn't long before they were picked up by two more TV stations: WMT out of Cedar Rapids and KWWL out of Waterloo. They were playing nearly every night and backing up visiting delegations of young Nashville stars such as Johnny Cash, The Everly Brothers, Ray Price, Marty Robbins, Jim Reeves, Redd Stewart, Pee Wee King, Leroy Van Dyke, Marvin Rainwater, Don Gibson, and many others. The sisters have always made music a part of their lives. They still possess some of the 24 tailor-made western dress outfits they wore during performances. They were a popular territorial band that played in venues across Iowa, Illinois, and Wisconsin, including several summers at the Tommy Bartlett Ski Show in the Wisconsin Dells where many more stars such as the Lennon Sisters joined them at the water's edge before crowds that numbered in the thousands.

The Savanna Museum and Cultural Center is a historical 3-story building which contains artifacts telling the story of this Mississippi River Community. The Museum opened in 2011. One of the spotlights of the project is Gene Wright's Gallery of more than 100 Civil War Soldiers. The museum also exhibits Gary "Scott" Law's Wayne King Big Band collection along with history of other area bands. Wayne King was a native son of Savanna and is a unique part of Savanna's history. There is a ballroom on the main floor that is available for dances, meetings, and other social events. The building is handicapped accessible and includes a new elevator installed this winter. There has been a wide variety of entertainment and traveling exhibits since the Museum opened. Last November 2, Lyle Beaver & The Brass Notes of Iowa City played a Veterans Day dance. They'll be back on Saturday, November 1, 2014.

Follow the Savanna Museum and Cultural Center on Facebook. Find more history of Dubuque's Clarence Zahina & His Barnstormers at http://stevensorchestra.org/ and by searching the Internet.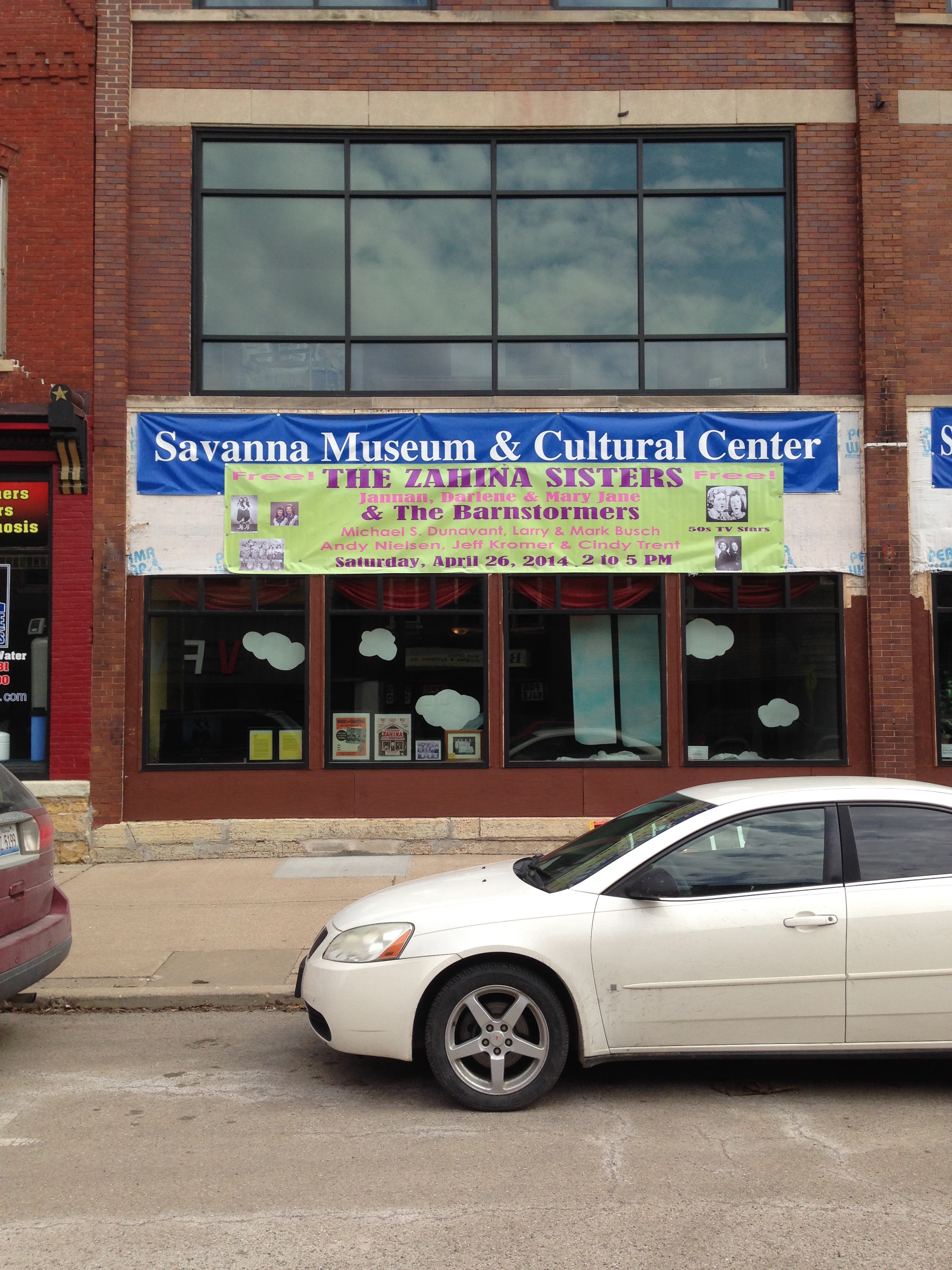 Savanna, Illinois USA, Birthplace and Hometown of Wayne King, "America's Waltz King."
Select and Play "Japanese Sandman" recorded by Wayne King and His Orchestra on Brunswick 6573 on Jan. 13, 1933 in Chicago.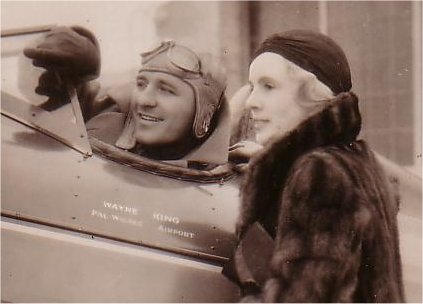 Hello,

I came across your website while researching Wayne King, since he was an important figure in our company's history, too.

Please have a look at our website:

The picture shows Syma Cohen-Busiel and Wayne King in around the mid thirties at Pal-Waukee airfield, north of Chicago.

Syma Cohen-Busiel (1891-1990) was the founder of Lady Esther Cosmetics. She had registered the trade mark in her name in 1913 (trading as Lady Esther). Later she ran the business with her younger brother Alfred (1900-1951). After his early death the company was sold and went through
many hands. Trade mark owners in the US are now a pharmaceutical wholesale company with no own production facilities and no roots back to Syma Cohen and the early history of this once very famous brand.

Our German company is now the trade mark owner elsewhere in the world. We have in our archive some old merchandise material connected with Wayne King, If you are interested, I can scan them for you. On the other hand I should be very grateful, if we could learn more about the co-operation between Wayne King and Lady Esther.

Unfortunately, our history related pages on the website are in German only.

Kind regards,

Thilo Figaj
LADY ESTHER KOSMETIK GMBH
BENSHEIM
GERMANY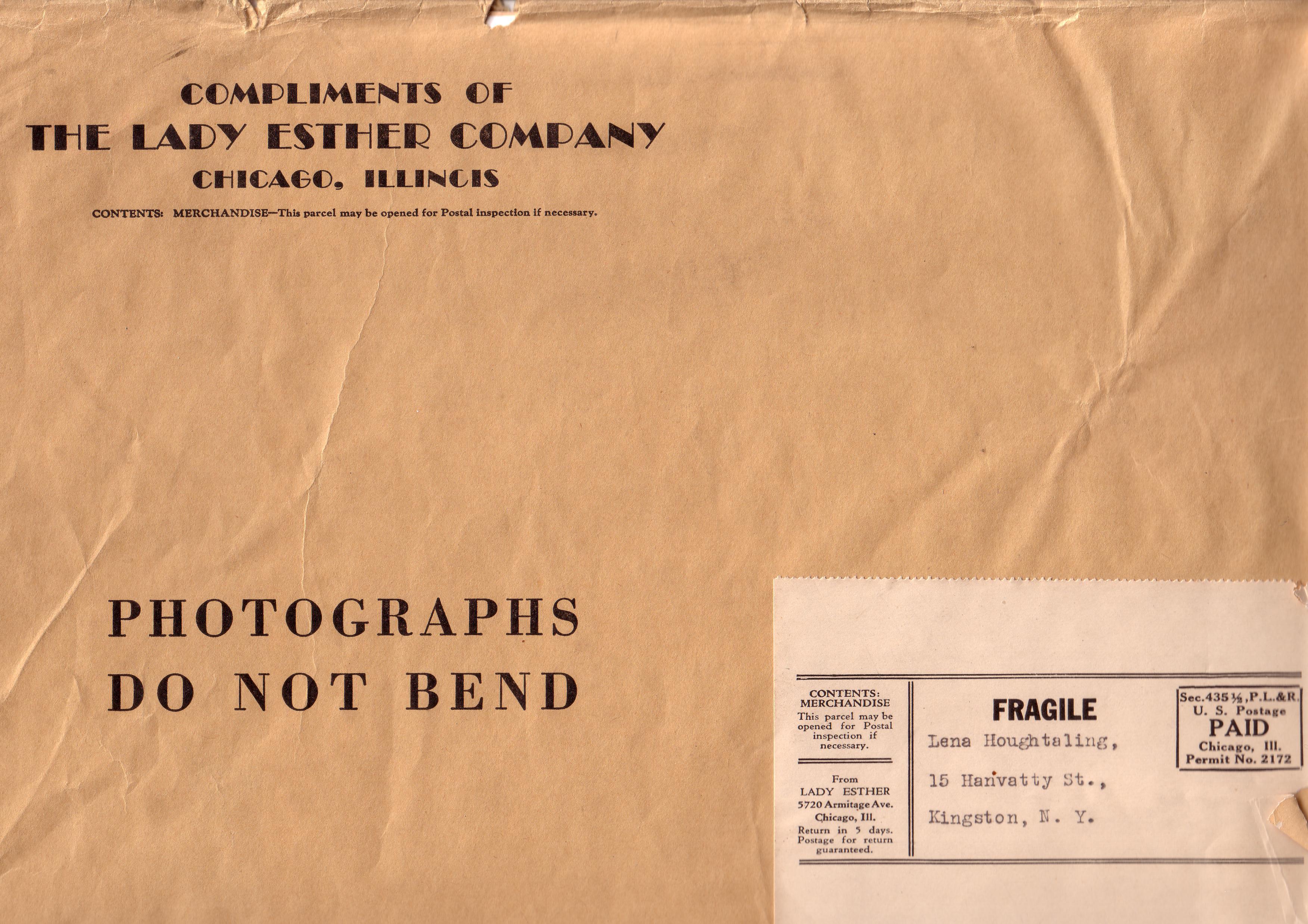 Courtesy of Director Thilo Figaj of Lady Esther Kosmetic, Germany GMBH
Lady Esther Ltd used to advertise to write to them to receive free samples, try them out and give a feedback. People received goodies in return, such as this print of Wayne King. The mailing is undated, but should also be from 1933 / 34.

In laters years they used cinema stars for their promotion. In 1943 Lady Esther Ltd sponsored the movie "Casablanca", the radio version, respectively. Ingrid Bergman can be heard in it speaking the promotion for Lady Esther after the radio show. Its on the bonus DVD of Warner's.

All the best with your project.
Kind regards from Germany & Happy Easter!

Thilo Figaj, Director
LADY ESTHER KOSMETIK GMBH
Robert-Bosch-Strasse 26
64625 Bensheim - Germany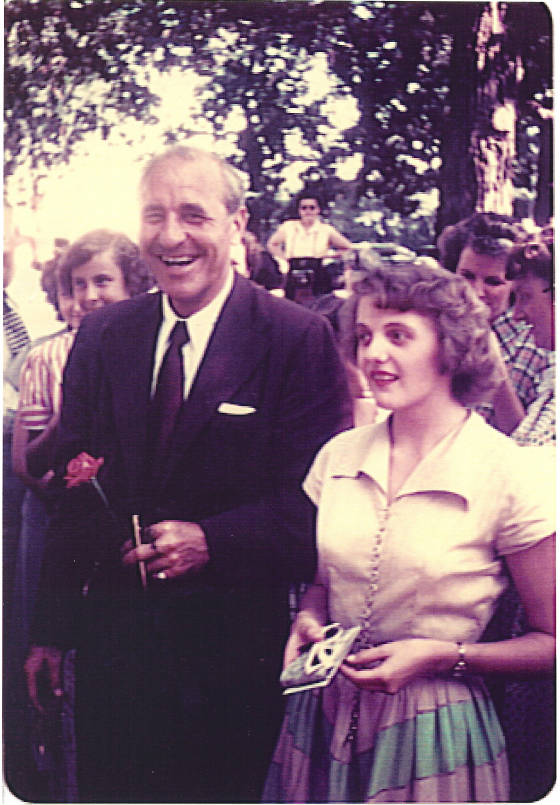 In 1951 Wayne King visited his city of birth, Savanna, Illinois. His visit was to honor Doctor Schreiter who delivered America's future Waltz King at 600 Bowen Street on February 16 or 18, 1901. The visit was part of the festivities surrounding Doctor Schreiter being named the doctor of the year in the State of Illinois in 1951.
This photo was snapped by the Homedew family. It's Wayne KIng and Adana L'homideu (some of the family use the old country spelling). Adana is one more of the nieces of Wayne's childhood friend Harold Homedew as mentioned below.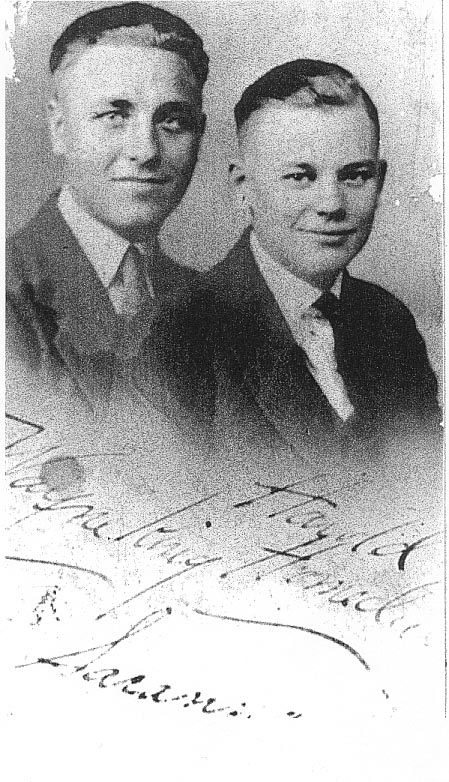 In the spring of 2005, the nieces of Harold Homedew, Vernetta Homedew Near and Janis Homedew Wilt of Savanna, discovered a remarkable photo negative in their father's records. The negative, circa 1918-1920, revealed a portrait of Wayne King with his very close family and childhood friend Harold Homedew. Harold, a really smooth dancer who won several dance contests, was featured at dances organized by Wayne King before he left Savanna for Chicago in 1921 to become nationally known as the Waltz King in 1927.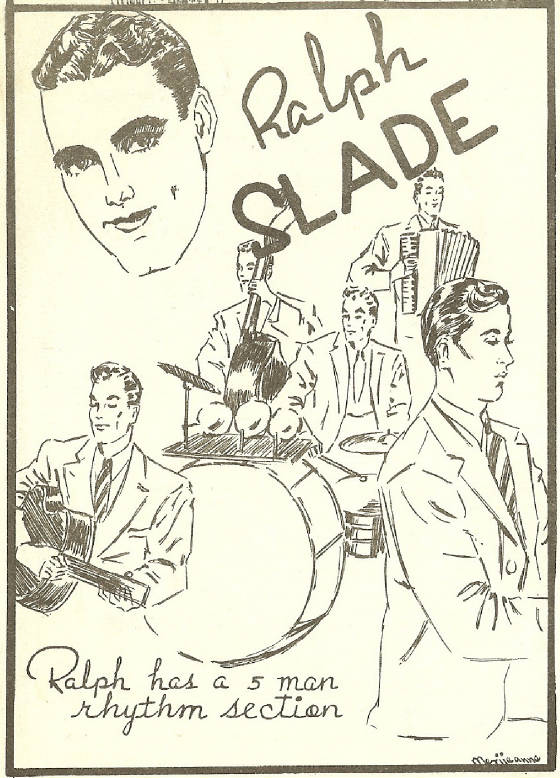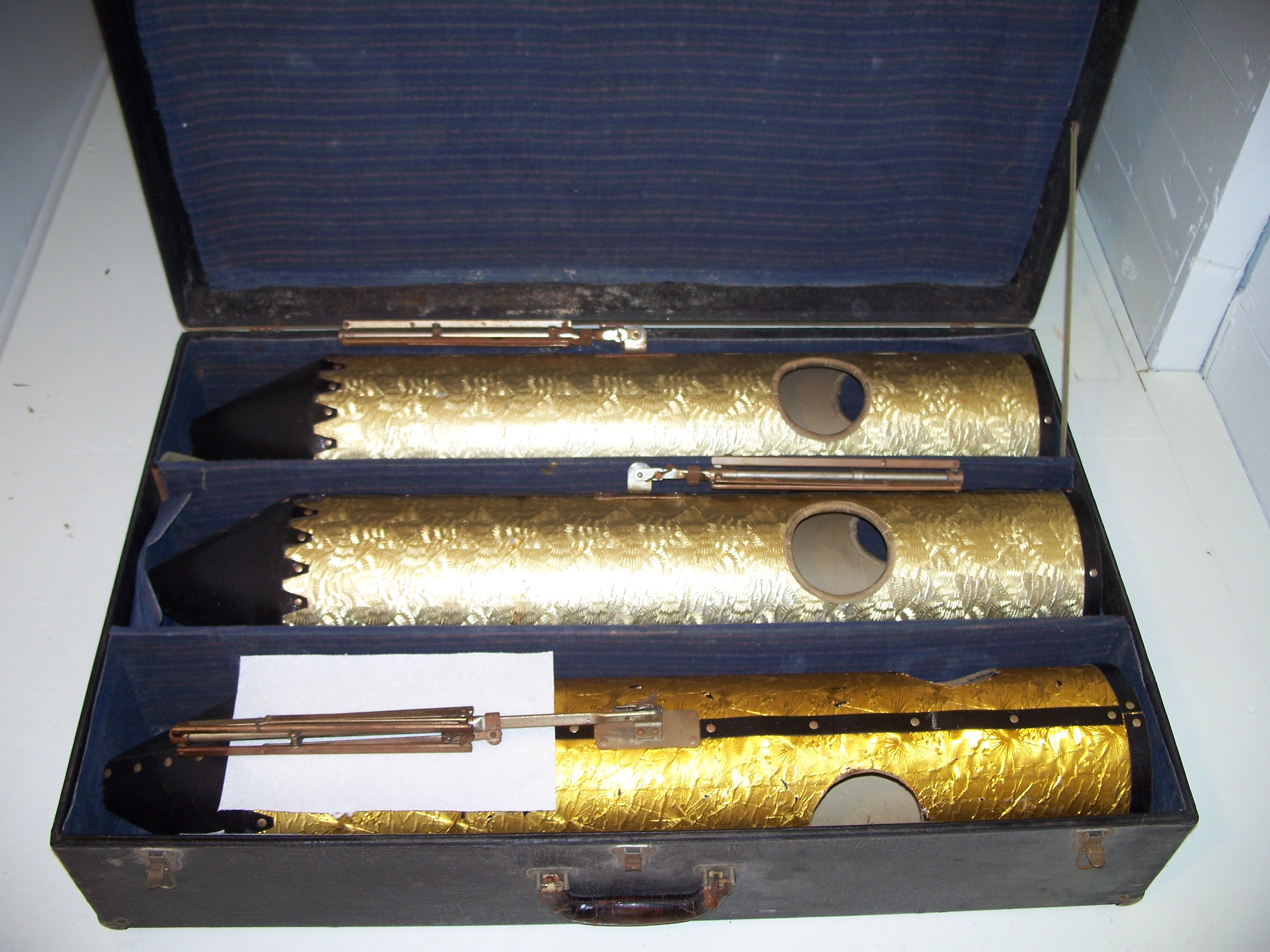 In September 2008, the Savanna Historical Society, NFP received these 3 saxophone mutes and stands in their original case for the Wayne King Collection.
Wendy Baldridge of Savanna donated the instruments in memory of her father, the late Walt Baldridge. Walt Baldridge was a well-known businessman and auctioner in Savanna for nearly 60 years.
The December 14, 1939 dance card was inside the saxophone mute case when it was donated by Wendy Balridge which led she and I to think the mutes and case once belonged to Wayne King. Since, it's become apparent that it belonged to the Ralph Slade Orchestra of Savanna as seen in the February 19, 1938 photo. We may never know for sure if Ralph Slade or one of his sidemen purchased the case and mutes new or if they obtained them used. We're pleased to be able to showcase these and other instruments and memorabilia at the Savanna Museum and Cultural Center at 406 Main Street in Savanna, Illinois...